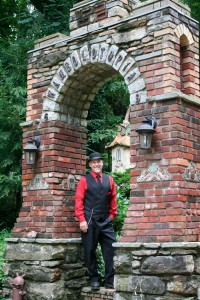 Stone is a versatile, durable and beautiful medium that adds function, value and aesthetics to indoor & outdoor environments.  Ricki Pierce takes pride in working with his customers' needs in finding creative solutions, taking the coarse mediums of stone and masonry to new levels of design and possibility.
Ranging from traditional to extravagant, The Rock Pirate's work often includes creative elements and imaginative patterns.
He uses both natural and manufactured stone, each with their unique properties, to give rise to timeless stone treasures.  Mixing various types of rock with brick adds another flavor to his palette; frequently creative sculptural elements are included in Ricki's stone tapestries. While he considers himself a stone mason, his work carries a level of creativity that is far from ordinary and can rather be described as stone art.
Please use the menu links above to see examples of The Rock Pirate's past works, both traditional and uncommon.  This website has just been launched and the galleries show merely samples of Ricki's large portfolio.  Please visit again soon.
Contact The Rock Pirate to
discuss your stone project.